I am happily married and have been for a little over 5 years. However, I can tell you things are different than they were in the beginning. It is much more rewarding now - we have 2 wonderful kids, a house, great jobs, etc.... but the fun and spice isn't always like it was in the beginning (truthfully seldom like it was). It doesn't help that my son asks questions if he hears noises coming from the room, or that you can totally think he is asleep and 10 minutes later he is knocking on your door, or that by the time you've tried to keep up with my daughter all day you're already pretty wore out! I have been making an effort to act like my husbands girl friend again though (if any of you have listened to Dr. Laura you know what I am talking about - if not just think about how you acted when you were a girlfriend not a wife, probably more laid back, more fun, etc...) It has made the whole house a more pleasant place and has spiced things up quite a bit - both of us flirting instead of nagging has really brought back the desire to sneak away when the kids are in bed and have some Mommy & Daddy time, if you follow!
If you are looking to spice things up with your significant other I highly recommend flirt like crazy, pretend you are dating again!
Another great thing to spice things up is heading to my favorite "spice it up" store: EdenFantasys.com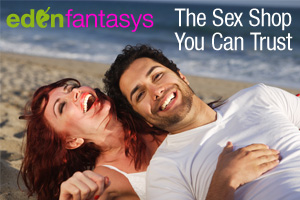 EdenFantasys has cute, sexy, classy, naughty, or pretty much any other lingerie you could want and all at great prices! I have bought quite a few piece of their lingerie and LOVE it. We have a local shop that I bought lingerie at before I found EdenFantasys and I can usually buy 3 pieces from EdenFantasys that are higher quality and I like much more
for the same cost as 1 piece from our local store!
Not only does EdenFantasy have a great selection of lingerie but they have tons of fun
"toys" for couples
, lubricants, romantic kits, etc.... I think I am going to try the Liberator pillow and see if they are really all they are cracked up to be! Don't worry as soon as I decide I will let you know!!!